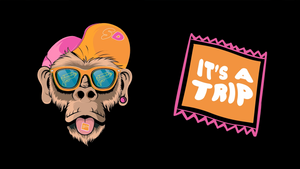 Discover... Creating the 'It's A Trip' promo video
At 4:15am the storyboard for this video was etched out on the back of a bank statement letter which was lying around on the kitchen table.
Within 10 minutes the Bic pen of choice had a little less ink in it.
Just before 5am a message was posted in the chat box of Reeg's WhatsApp.
'Are you free this morning?' ... 'I've got an idea for a video'.
Couple of hours later, the fingers of SUPADOPE's chosen videographer replied... 'I've got all the time in the world for you bro'.
A large oversized hoodie was picked from the shelves, moister removed from the garment, design pressed and re-pressed, neck labels printed and we was good to go.
Equipment preferred to capture this tripped out footage was a GoPro 9.
The landmark had been clocked 2 days before the idea came. A graffiti laden staircase adjacent to the A58, Leeds City Centre.
When filming, we battled homeless people for the bench we'd started filming on. Onlookers watching a grown man throw a banana into a bin multiple times were left bemused.
Changing in and out of clothes meant the hair became fluffy, an ageing banana became less appealing and almost inedible.
There's something unusually nice about revisiting times when a hallucinogenic square of blotting paper would twist your melons.
We left a piece of ourselves in Leeds that morning.
The video files hit the MacBook at Reeg's residence, and within days, the visual you can watch right here (or on YouTube), was sent back to SUPADOPE DELUXE HQ so that we could start promoting.
As always, we thank Reeg for his insane level of filming and editing qualities, and we thank you for stopping by.
---