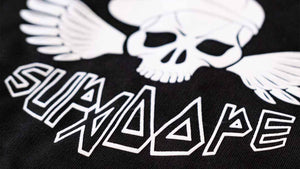 Discover... The Quality
When we were in our in research and development phase.
The question we needed answering was 'where do we find the premium quality garments?'.
After all.
As well as creating products with designs that would last a minimum of 40+ washes... we wanted the clothes and accessories to look like new for as long as physically possible too.
R&D took approximately 4-6 months.
Not only did we have boxes of wearables arriving, taking up space on the studio floor, and piling up across various surfaces... there was also the pain-staking task of trying the clobber on.
Borrowing people who'd fit the sizes; checking whether you can see tattoos through the lighter coloured t-shirts.
Printing the whole range of sample items to see which products fit right, hang right and making sure there's a fit for everyone... followed.
At the end of the research and development journey, we settled on one brand. One brand that would supply us direct with the premium quality garments we hungered for.
Not only did the manufacturer meet all of our initial demands, they met more that spoke to the hearts of our team and our customers.
Vegan Certified materials; organic and recycled brushed cotton as standard, recycled polyester outerwear, sustainable with each stitch inserted creating perfection.
No expense spared!
SUPADOPE DELUXE is premium. It's more than fast fashion... it's streetwear for the ages, it's created to leave a legacy over time.
SUPADOPE DELUXE is not a here today gone tomorrow brand... it's the future beyond each minute in every day.
---